Anand Teltumbde (born 15 July 1950) is an Indian scholar, writer, and civil rights activist who is a management professor at the Goa Institute of Management. He has written extensively about the caste system in India and has advocated for the rights of Dalits. He was imprisoned in 2020 along with other activists and intellectuals who were critical of the government.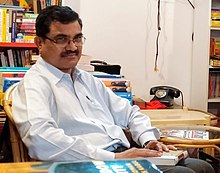 Teltumbde was born on 15 July 1950 in Rajur, a village in the Yavatmal district of Maharashtra state, to a family of Dalit farm labourers. He is the oldest among eight siblings. He is married to Rama Teltumbde who is a granddaughter of B. R. Ambedkar. He earned a mechanical engineering degree from Visvesvaraya National Institute of Technology in 1973, an MBA from the Indian Institute of Management Ahmedabad in 1982 and a PhD from the University of Mumbai in cybernetic modelling in 1993 while working as an executive at Bharat Petroleum. He was also awarded an honorary doctorate (D.Litt.) from the Karnataka State Open University.
Teltumbde was an executive at Bharat Petroleum and managing director of Petronet India Limited before becoming an academic. He was a professor at the Indian Institute of Technology Kharagpur and later became a senior professor at the Goa Institute of Management. He contributes a column titled "Margin Speak" to Economic and Political Weekly, and has also contributed to Outlook, Tehelka, and Seminar. His 2018 book, Republic of Caste, is a collection of essays that assesses the position of Dalits, including the relationship between caste and class. Teltumbde advocates for a closer relationship between Marxism and the Ambedkarite movements in fighting for Dalit liberation, as well as reform of the reservation system.
Selected publications
The Radical in Ambedkar (ed.) (Penguin Random House, New Delhi, 2018) ISBN 978-0670091157
Republic of Caste: Thinking of Equality in the Era of Neoliberalism and Hindutva (Navayana, New Delhi, 2018) ISBN 978-8189059842
Dalits: Past, Present and Future (Routledge, London and New York, 2016) ISBN 978-1138688759
Mahad: The Making of the First Dalit Revolt (Aakar, New Delhi, 2015) ISBN 978-9350023983
The Persistence of Caste (Zed Books, London, 2010) ISBN 9781848134492
Khairlanji: A Strange and Bitter Crop (Navayana, Delhi, 2008) ISBN 978-8189059156
Annihilation of Caste (Ramai, Mumbai, 2005) ISBN 978-9353040772
Hindutva and Dalits: Perspectives for Understanding Communal Praxis (ed.) (Samya, Kolkata, 2005) ISBN 978-8185604756
'Ambedkar' in and for the Post-Ambedkar Dalit Movement (Sugawa, Pune, 1997) ISBN 978-8186182291