Erode Venkatappa Ramasamy (17 September 1879 – 24 December 1973), revered as Periyar or Thanthai Periyar, was an Indian social activist and politician who started the Self-Respect Movement and Dravidar Kazhagam. He is known as the 'Father of the Dravidian movement'. He rebelled against Brahminical dominance and gender and caste inequality in Tamil Nadu. Since 2021, the Indian state of Tamil Nadu celebrates his birth anniversary as 'Social Justice Day'.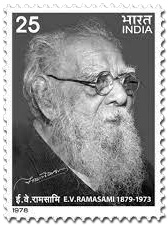 Ramasamy joined the Indian National Congress in 1919, but resigned in 1925 when he felt that the party was only serving the interests of Brahmins. He questioned the subjugation of non-Brahmin Dravidians as Brahmins enjoyed gifts and donations from non-Brahmins but opposed and discriminated against non-Brahmins in cultural and religious matters. In 1924, Ramasamy participated in non-violent agitation (satyagraha) in Vaikom, Travancore. From 1929 to 1932 Ramasamy made a tour of British Malaya, Europe, and Soviet Union which influenced him. In 1939, Ramasamy became the head of the Justice Party, and in 1944, he changed its name to Dravidar Kazhagam. The party later split with one group led by C. N. Annadurai forming the Dravida Munnetra Kazhagam (DMK) in 1949. While continuing the Self-Respect Movement, he advocated for an independent Dravida Nadu (land of the Dravidians).
Ramasamy promoted the principles of rationalism, self-respect, women's rights and eradication of caste. He opposed the exploitation and marginalisation of the non-Brahmin Dravidian people of South India and the imposition of what he considered Indo-Aryan India.
For more visit: [https://en.wikipedia.org/wiki/Periyar]