16 total views, 1 views today
Sukhadeo Thorat (born 12 July 1949) an Indian economist, educationist, professor and writer. He is the former chairman of the University Grants Commission. He is professor emeritus in Centre for the Study of Regional Development, Jawaharlal Nehru University. He is an expert on B. R. Ambedkar.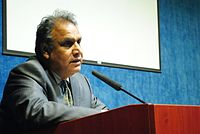 Thorat hails from Mahar community of Maharashta. Thorat graduated with a B.A. from Milind College of Arts, Aurangabad, Maharashtra. He obtained an M.A. in Economics from Dr. Babasaheb Ambedkar Marathwada University, M.Phil/PhD in Economics from Jawaharlal Nehru University, and Diploma in Economic Planning, Main School of Planning, Warsaw, Poland.
For more details visit: https://en.wikipedia.org/wiki/Sukhadeo_Thorat