Satyendra Murli (born 14 February 1983) is a researcher, media pedagogue and a journalist. He has been associated with Doordarshan (DD News), (public service broadcaster of India, Prasar Bharti, government of India) as an Indian television journalist; and other several media organizations. He teaches at university level as an assistant professor of communication and media studies. His research areas are communication, mass media, journalism, media studies, media pedagogy, Buddhism; and open and distance learning.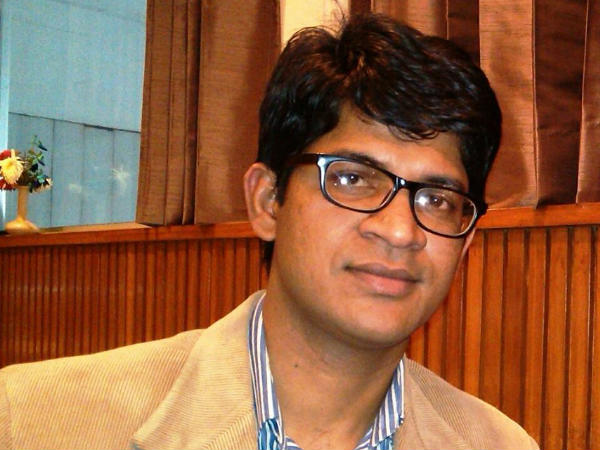 Satyendra Murli follows the ideology of Buddha and he is popularly known as an Ambedkarite journalist. He has been actively participating in social and political movements based on Phule-Ambedkar ideology for a long time, more than two decades. He strengthens the voice for human rights, freedom of speech, women rights, rights of tribals and dalits (indigenous people), diversity in media, representation of other backward classes (OBC) and religious minority.
Satyendra Murli is born in the Jatav family to Sushila Devi Jatav and Santoshi Ram Jatav in Birana, Dausa (Rajasthan), India. His grandfather was Shri Murli Ram Jatav, a farmer and a social leader.
Satyendra did his schooling at the Jawahar Navodaya Vidyalaya (JNV), Dausa; Shanti Niketan School, Mahwa and GSSS, Bhilwara with science subjects. After graduating with a Bachelor of Arts degree in public administration, geography and Hindi literature from the University of Rajasthan (Jaipur); he completed his Master of Journalism and Mass Communication from the Centre for Mass Communication (Jaipur). He did PGDHJ from Indian Institute of Mass Communication, Ministry for I & B (New Delhi). Satyendra Murli did his M.Phil. research degree on Buddhist ethics and news media from Gautam Buddha University, Greater Noida, Uttarpradesh. He registered as a PhD research scholar and worked on media pedagogy.
Satyendra Murli a journalist with Doordarshan passionately spoke of double standards in the media. He argues, "If so-called lower caste or Dalit journalists raise their voice against the casteism, they are accused of being casteist and the ones actually perpetuating this casteism actually become national journalists". He strongly urged journalists to stand together on issues of casteism and reservation.
Fore more details visit: https://en.wikipedia.org/wiki/Satyendra_Murli