Kumari Mayawati (born 15 January 1956) is an Indian politician. She has served four separate terms as Chief Minister of Uttar Pradesh. She is the national president of the Bahujan Samaj Party (BSP), which focuses on a platform of social change for Bahujans, more commonly known as Other Backward Castes, Scheduled Castes and Scheduled Tribes as well as converted minorities from these castes. She was chief minister briefly in 1995 and again in 1997, then from 2002 to 2003 and from 2007 to 2012.
Mayawati's rise from humble beginnings has been called a "miracle of democracy" by P. V. Narasimha Rao, former prime minister of India. In 1993 Kanshi Ram formed a coalition with the Samajwadi Party and Mayawati became the Chief Minister of Uttar Pradesh in 1995. She was the first female Scheduled Caste chief minister in India. In 1997 and in 2002 she was chief minister with outside support from the Bharatiya Janata Party (BJP), the second time only for a year up to 26 August 2003 due to BJP withdrawing support.
Mayawati's tenure has attracted praise and criticism. Millions of Dalits across India view her as an icon, and refer to her as Behen-ji (sister). She has been praised for her fundraising efforts on behalf of her party and her birthdays have been widely celebrated by her supporters. The rise in her personal wealth and that of her party have been criticised as indicative of corruption.
After losing the 2012 legislative assembly elections to Akhilesh Yadav of Samajwadi Party, she resigned from her post as party leader on 7 March 2012. Later that month, she was elected to the Rajya Sabha, the upper house of Indian parliament.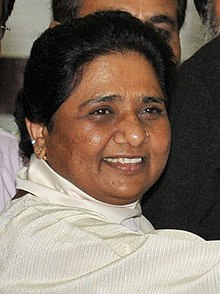 Mayawati was born on 15 January 1956 at Shrimati Sucheta Kriplani Hospital, New Delhi into a Dalit family of Jatav caste. Her father Prabhu Das, was a post office employee at Badalpur village, near Dadri in Gautam Buddha Nagar. The sons in the family were sent to private schools, while the daughters went to "low-performing government schools".
Mayawati studied for her B.A. in 1975 at the Kalindi College, University of Delhi and obtained her LL.B. from the prestigious Faculty of Law, University of Delhi in 1983. She completed a B.Ed. from Meerut University's VMLG College, Ghaziabad, in 1976. She was working as a teacher in Inderpuri JJ Colony, Delhi, and studying for the Indian Administrative Services exams, when Scheduled Castes and Scheduled Tribes and Other backward castes politician Kanshi Ram visited her family home in 1977. According to biographer Ajoy Bose, Ram told her: "I can make you such a big leader one day that not one but a whole row of IAS officers will line up for your orders." Kanshi Ram included her as a member of his team when he founded the Bahujan Samaj Party (BSP) in 1984. Mayawati was first elected to Parliament in 1989.
Taken from Wikipedia. For more click on [https://en.wikipedia.org/wiki/Mayawati]