http://jagjivanramfoundation.nic.in
The Babu Jagjivan Ram National Foundation was established by the Government of India as an autonomous organization under the Ministry of Social Justice & Empowerment and registered under The Societies Registration Act, 1860 on 14th March 2008.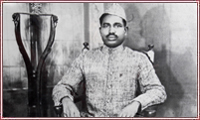 The President of the Foundation is the Union Minister of Social Justice & Empowerment.
The main aim of the Foundation is to propagate the ideals of the late Babu Jagjivan Ram, Deputy Prime Minister, on social reform as well as his ideology, philosophy of life, mission and vision to create a casteless and classless society. The Foundation works to promote the scheduled castes and weaker sections of society through development schemes to promote social justice, to remove discrimination, to empower the scheduled castes and underprivileged people of society as well as to bring about an attitudinal change in society to abolish untouchability and caste-based prejudice.