Birsa Munda pronunciation (help·info) (15 November 1875 – 9 June 1900) was an Indian tribal freedom fighter, and folk hero who belonged to the Munda tribe. He spearheaded a tribal religious millenarian movement that arose in the Bengal Presidency (now Jharkhand) in the late 19th century, during the British Raj, thereby making him an important figure in the history of the Indian independence movement. The revolt mainly concentrated in the Munda belt of Khunti, Tamar, Sarwada and Bandgaon.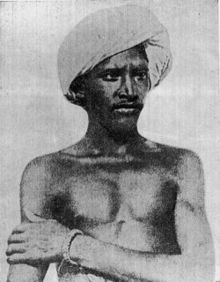 Birsa received his education in Salga under the guidance of his teacher Jaipal Nag.Later, Birsa converted into a Christian to join the German Mission School but soon dropped out after finding out that Britishers were aiming to convert tribals to Christianity through education.
After dropping out of school, Birsa Munda created a faith called 'Birsait'.
Members of the Munda community soon started joining the faith which in turn became a challenge for the British conversion activities.
The cause of the Munda revolt was the 'unfair land grabbing practices by colonial and local authorities that demolished the tribal conventional land system'.
Birsa Munda is known for challenging the Christian missionaries and revolting against the conversion activities along with the Munda and Oraon communities.
His portrait hangs in the Indian Parliament Museum.
For more visit: https://en.wikipedia.org/wiki/Birsa_Munda