Pa. Ranjith is an Indian filmmaker who works in Tamil films. He made his directorial debut with the 2012 romantic comedy Attakathi, before earning unanimously positive reviews for his second film, the political drama Madras (2014). In 2016, he wrote and directed the gangster-drama Kabali and in 2018, Kaala both starring Rajinikanth. In 2021, he directed the highly acclaimed Sarpatta Parambarai, starring Arya and Pasupathy.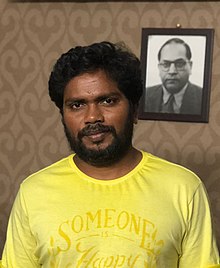 Pa. Ranjith was born at Karalapakkam, Avadi, Chennai. He has two brothers – Prabhu and Saravana. He graduated from Government College of Fine Arts, Chennai, and has described how his travels to and from his college often helped create inspiration for film ideas.
Sociocultural Initiatives
Ranjith extended his social work in another form, which is 'Neelam Panpaatu Maiyam' (Neelam Cultural Center). As part of this initiative, in honour of the 100 years of Dalit struggle, life-sized sculptures were established and the efforts of the Dalit activists were documented.
Neelam Panpaatu maiyam also conducted the three day arts festival – 'Vaanam' in Chennai between December 29 to 31, 2018. The festival was unticketed and many artists across Tamil Nadu participated in it. Also many artifacts were presented. Ranjith explained that this festival would act as a platform to discuss more complex social issues through art.
Neelam cultural center launched 'Koogai Thiraipada Iyakkam' (Koogai Film Movement). This movement was started to bridge the gap between literature and cinema. As part of this movement, the first initiative was to set up a library named 'Koogai'.
Neelam cultural center rolled out their new campaign '#VoteOutHate' and started producing short films on the same for a release in their official YouTube channel. The first film was Lovers in the afternoon directed by Rajesh Rajamani and the second film was 'Share Auto' directed by Jenny Dolly.
The Casteless Collective
Ranjith's organisation, Neelam Cultural Centre, collaborated with the label Madras Records to form a 19-piece band called The Casteless Collective that includes four rappers, seven instrumentalists and eight gaana musicians, a popular folk music style in Tamil Nadu. The name of the band was inspired by a phrase – "jaathi bedha matra Tamilargal" – used by Tamil anti-caste activist and writer C Iyothee Thass. Iyothee Thassa Pandithar (1845-1914) was the first to moot the phrase "Jaathi Bedha Matra Tamizhargal" in the early 20th century by publishing the same in his Tamil Journal Tamizhan (1907-1914).
For more details visit: https://en.wikipedia.org/wiki/Pa._Ranjith